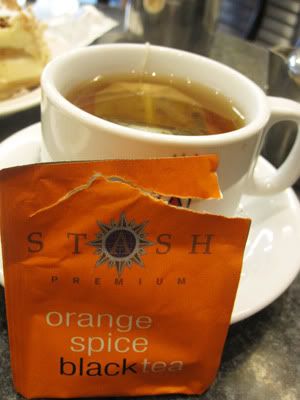 Cafe Review: Le Bon Continental Cake Shop
Where: 93 Acland St, St Kilda
Living on the north side of Melbourne, I don't tend to venture "over the river" very often. Well, ok, to the National Gallery and casino and southbank, but that's about as far as I go. But in honour of my mum coming all the way down from Canberra for a visit, we did a special quest down to St Kilda in search of fabled cake shops.
After a very, very long tram ride and a very confusing wander around the streets (tip of the day: no matter how confidently she says she does assuming your mother knows where the cake shops in a city she's only been to once is folly) we found Acland Street. There's a strip with about 4 or 5 european style cake shops with the most amazing window displays. It is seriously drool worthy.
I will admit we chose the cake shop entirely based on what we wanted to eat, not the tea available. I was pleasantly surprised to find that the one we chose, Le Bon, served a brand of tea I've been reading about lately called "
Stash Tea
". It all looked very promising, with about 12 different types of tea ranging from green or earl grey to raspberry or orange spice. We ordered a vanilla slice, a macadamia tart, and two pots of orange spice and it was all going quite well.
Ah, alas. Tea bags. I wasn't actually expecting loose leaf tea at this place so I wasn't too disappointed. Until I opened opened it. I think I've been spoiled with those lovely silk tea bags with the high quality tea (when I dare to drink them) - what we had here was the old fashioned paper filter filled with fannings. To make matters worse, while they did put bits of orange peel in to flavour the tea, they used
clove flavouring
instead of actual cloves. I seriously do not understand this. Stash looks like a pretty upmarket tea company, why are they using flavouring instead of actual cloves? The tea itself was weak and not very tasty, despite the delicious aroma wafting off it.
So the tea was a disappointment, especially at $4 per pot. Luckily the cakes saved the day (though the vanilla slice wasn't amazing, the macadamia tart made up for it). I suppose I was expecting more because I'd built Stash up in my head as a really good tea brand. I am prepared to give them another go because hey, maybe I just chose a dud tea?
I guess in the end this has been me judging Stash Tea and not Le Bon for providing the tea, and I think it's great they were branching out from the usual T2. But in my opinion, cakes are just supposed to with tea. I think it just makes sense, when the cakes are so beautiful, to make sure you have a tea that compliments them.
The Rating