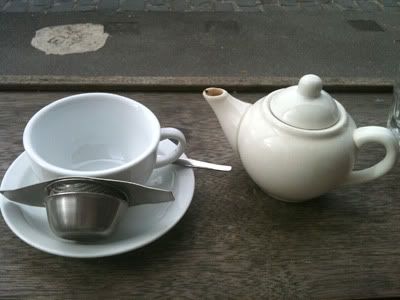 Cafe review: A Minor Place
Where: 103 Albion St, Brunswick
I've been meaning to go to A Minor Place for a while, and finally got there the other day after picking my housemate up from the airport at crazy o'clock.
Alright, first things first, the positives. I love the atmosphere there. It's like a converted terrace house, very relaxed and friendly. The breakfast menu is pretty extensive and full of interesting dishes (my housemate had a bagel with avocado and dahl).
The tea range is big for a place that is better known for coffee - there are your standards like English Breakfast and Earl Grey, and a few more interesting ones like peppermint, liquorice and ginger, and a red rooibos.
I go for the gen mai cha and a piece of organic fruit toast. We also get some water which, sorry I'm going to get hung up on this, has cucumber in it. I can get behind lemon or whatever in my water, but cucumber? I don't want my water tasting like cucumber.
The drinks come out. Bonus - they use tea leaves. Hoorah! And the tea pot is very cute in a bubble kind of way. But the tea pot is dirty with tanine staining all up the spout. Mmm, nice.
The tea is a lovely pale honey colour when I pour it and has that good roasted rice smell. Alright, all going well. Then I drink it. You know when you cook rice on the stove and it goes crusty and brown around the edges? Yeah, that's what it tastes like. Over cooked, crusty rice.
At least the fruit toast was nice. But overall, not the best tea experience, and I just couldn't get over my weird tasting water. I'd recommend going for coffee and breakfast, but stick to the plain teas and lemon water.
The Rating
Atmosphere: 4/5
Available food: 3/5
Tea range: 3/5
Tea had: 2/5
Overall: 12/20